Image by @Carcazan
The Home Office published its latest immigration statistics last week. On the same day, the Government was held to account, again, for the harmful impact of its hostile environment policies – this time, the wrongful detention and deportation of students accused of cheating on English language tests.
These stories were overshadowed by the news that Theresa May had announced her resignation as Prime Minster. However, they both point to the deep and lasting legacy she leaves as principal architect of the hostile environment.
Tweaks are being made to create a slightly less visible, slightly more palatable hostile environment, but wholesale reform has not yet happened – as is obvious in the case of immigration detention.
The detention estate continues to shrink from the ignominious highs of 2015, when 32,447 people entered detention, nearly 4,000 people were detained indefinitely at any one time, and it was not uncommon to meet people who had been detained for 3, 4 or 5 years.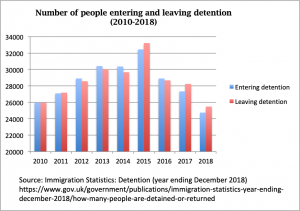 In comparison, in the year ending March 2019, 24,333 people entered detention and, on 31 March, there were 1,839 people detained across the UK.
People also tend to be detained for less time. On 31 March, 51% of people in detention had been there for 28 days or less, compared with 42% at the end of 2018.
The quarterly immigration stats came out today – they show a welcome trend of less people being held in indefinite detention.

However, tens of thousands of people are still locked up with no idea of when or if they will be released.https://t.co/l0NCtlshPI

— Liberty (@libertyhq) May 24, 2019
All of this is cause for cautious optimism, bolstered by the Home Office's decision to pilot community-based alternatives to detention. However, while some of the details have changed, the underlying structure remains largely the same.
Numbers of people being detained have stopped decreasing: more people entered detention in the first quarter of 2019 than the last quarter of 2018 (1,839, up from 1,784).
Nearly 20% of people detained in the UK continue to be held in prisons, with little or no access to legal advice, contact with the outside world, or safeguards against unlawful detention.
People continue to be detained long past the point of 'a realistic prospect of removal within a reasonable timeframe'. The latest statistics show that someone had been detained for almost two years.
And detention is becoming ever less effective at achieving its primary goal: ensuring that people are returned from the UK to their 'country of origin'. Since 2015, fewer than half of all people detained have been removed or deported, and this figure continues to fall. Between January and March 2019, only 39% of people were returned from detention; 61% were released to continue living in the UK.
It's time to stop tweaking and commit to meaningful, long-term detention reform. In 2019 alone, the Home Affairs Select Committee, the Joint Committee on Human Rights, and the UN Committee Against Torture have called on the UK to introduce a time limit, ensure independent judicial oversight of decisions to detain, and implement alternatives to detention.
Over the course of our inquiry, we have found serious problems with almost every element of the immigration detention system. People are being wrongfully detained, held in immigration detention when they are vulnerable and detained for too long.

Home Affairs Committee
Over 80 MPs from all political parties have signed up to an amendment to the Immigration and Social Security Coordination (EU Withdrawal) Bill calling for a 28 day time limit with judicial oversight.
Indefinite immigration detention – where do the Conservatives, Labour, DUP, Lib Dems, SNP, Greens, Plaid Cymru, Change UK and the Brexit Party stand? Find all the answers here https://t.co/XvuPnFDnup

— Detention Action (@DetentionAction) May 23, 2019
As we wait to see who will replace May as Prime Minster, it's crucial to keep reminding the Government that tweaking around the edges is not enough. What's needed is substantive, meaningful detention reform, starting with an end to indefinite detention.